Image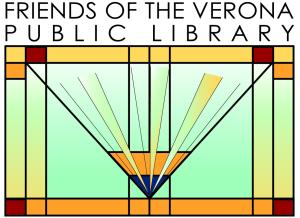 The Friends of the Verona Public Library play a critical role annually to provide financial and volunteer support to the library.
The mission of the Friends of the Verona Public Library is to:
Maintain an association of persons interested in libraries
Focus public attention on the library and educate the community in the use of library resources and services
Receive and encourage gifts and bequests to the library
Support and cooperate with the library in developing library services and facilities for the community
Sponsor cultural and educational programs
To contact the Friends of the Verona Public Library, please email fvpl.board [at] gmail.com.
Please consider becoming a Friend of the Verona Public Library.  Below you will find an easy way to contribute to your library and become a member.  
Donate Used Books
A great way to support your library is to donate new and gently used items. Your donation may be added to the library's collection or sold at the Friends of the Verona Public Library used book sale.  All money from the Friends' book sale is used to enhance library programs and services. Accepted items include:
Books
DVDs
Music or books on CD
Video games
Donations may be dropped off anytime the library is open. For large donations or drop offs that require staff assistance, please contact us in advance. Donors may receive a signed Certificate of Donation. The library reserves the right to reject any potential donations, including but not limited to:
Business/financial books, medical/health books, and travel guides more than three years old
CD-ROMs
Discarded library books
Encyclopedias
Items that are damaged (warped, moldy, missing pages or covers, etc) or in unsellable condition, and household items
Magazines
VHS or cassette tapes
Text books
Reader's Digest Condensed Books
Personalized Library Bricks
Due to supply issues, brick orders are not available at this time. We hope to be able to offer personalized bricks again in the near future.
Friends of the Verona Public Library Board
Rhonda Mossner, President
Jean Bass, Vice President
Kathie Van Susteren, Treasurer
Debbie Bass
Sharon Berkner
Ted Bunck
Judy Loveless
Carolyn Remmert
Lou Slamar
Stacey Burkart, Library Director
Image

Image