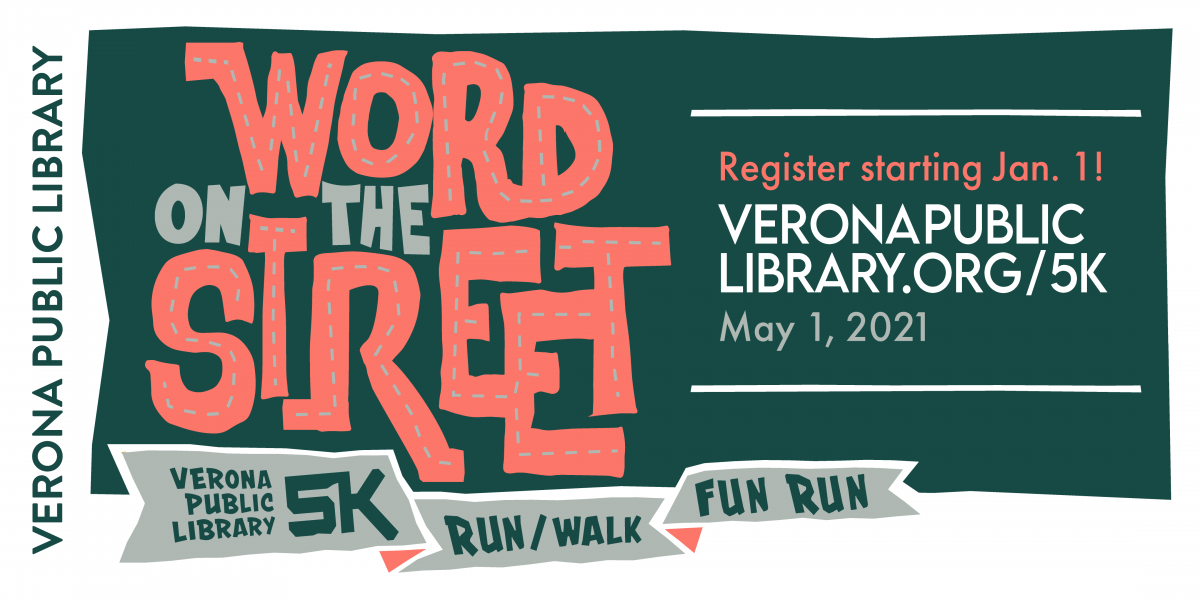 Word on the Street 5k Run/Walk
Saturday, May 1, 2021
PLACE
Packet Pick-up at Verona Public Library
In Person Start/Finish at Verona Public Library; starting line open 8am until noon
Run or Walk Anywhere for Virtual Event
DESCRIPTION
Word on the Street offers hybrid options!
Due to the continuing COVID-19 pandemic and our desire to keep our community safe and healthy, Word On the Street 5K Run/Walk will offer both in-person and virtual event options for 2021. If restrictions on race day do not allow an in-person event, all participants registered for in-person may choose to transfer to the virtual event, defer their registration fee to 2022, or request a refund. 
Kids' Run will return in 2022. Check the library website for other fun activities for children.
How will the in-person event remain safe?
Packet pick-up stations will be spread out to allow social distancing. Contactless pick up available on April 30.

Open start allows participants to choose their start time between 8 am and noon. Participants will remain in their vehicles in the library parking lot until the start area is clear.

Revised trail course eliminates need for traffic crossing. Course will be marked with route arrows. No course marshals will be present.
How does a virtual event work?
T-shirts and race packets can be picked up at the library beginning April 30. Contactless pick-up is available. Participants from outside the area may request t-shirt be shipped for a fee.

Run or walk a 5K any time on May 1, 2021.

Choose your route and run anywhere.

No race timing, water stop, refreshments, or traffic control will be provided.

Share photos on Facebook, Instagram, and Twitter using hashtag #veronawots2021 to enter prize drawing.
COST:
All proceeds from the event benefit the Verona Public Library Endowment Fund.
$30 March 20 - May 1, 2021 (plus processing fee)
*T-Shirts can only be guaranteed for registrations completed on or before April 16, 2021
 **Online Registration for in-person event ends at 6:00 am on 5/1/21. Race day registration available in person.
 **Online Registration for virtual event ends at 5:00 pm on 5/1/21.
Save by referring friends and family!
Receive a $20 refund on your registration fee when 4 other participants register using your referral code.
T-SHIRT and PACKET PICK-UP:
Packet pick-up at Verona Public Library, 500 Silent Street
     April 30, 2021, 1:00 - 6:00 pm -- Safe and distanced in person pick-up. For contactless option, please call 608-845-7180.
     May 1, 2021, 8:00 am - 12:00 noon
To receive your t-shirt by mail, select "Ship to me" at checkout. A $5 postage fee applies.
COURSE MAP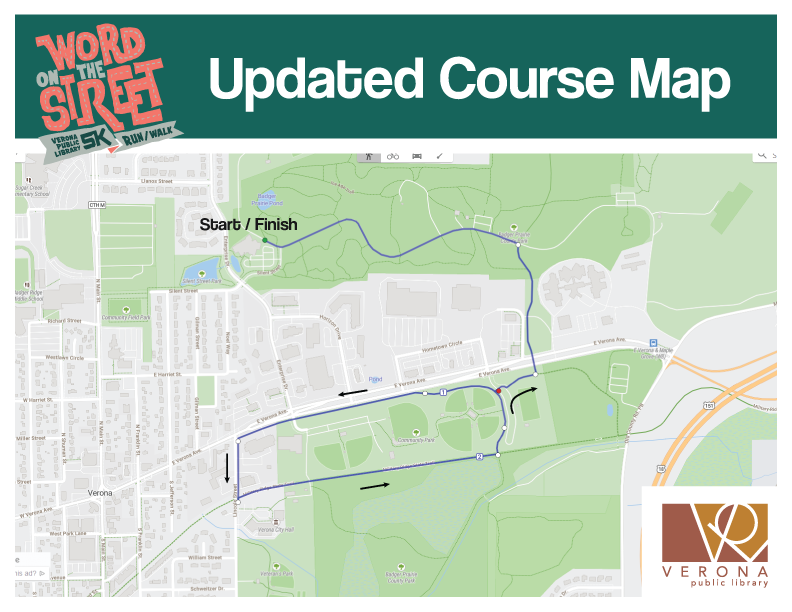 Sponsorship Information
Platinum Level Sponsors
Friends of the Verona Public Library
Gold Level Sponsors
TDS
Silver Level Sponsors
Ginkgo Biloba
Bronze Level Sponsors
Minerals and More: Beyond the Elements
Copper Level Sponsors
-----------------------------------------